Category: 'New Music'
LISTEN: Ciara's new single "I'm Out" feat. Nicki Minaj
22 May 2013 | Posted by Cherry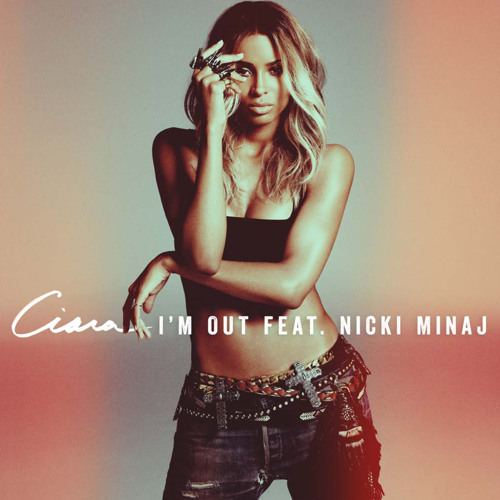 Ladies this your song! Ciara premiered her brand new single "I'm Out" featuring Nicki along with the cover art! It's the opening track off "Ciara". Listen below:
"Body Party" comes out today! (UPDATED)
04 Mar 2013 | Posted by Cherry
Ciara's highly anticipated new single "Body Party" is set to be released today (March 4th) (source)! VEVO is already prepared for premiere of the song, click here to see the screen shot.
UPDATE: CiCi confirmed:

Go 2 http://t.co/ESkOvlqLCz @ 9am PT/12ET TODAY 4 the #BODYPARTY SONG PREMIERE! Til Then...A Little Bathroom Fun:) xo http://t.co/98NodZhENP
She also recently posted on Instagram some parts of lyrics:
Ciara teases fans with snippet of her new single "Body Party" & cover art
01 Mar 2013 | Posted by Cherry
The OWA train is coming back again… Ciara raveled the new single today called "Body Party! She unveiled cover art and uploaded snippet of the song. Pure hotness! There's no release date yet. Check it out:
"Wake Up, No Make Up" single cover
16 Jan 2013 | Posted by Cherry
NEW SONG: Ciara – Wake Up, No Makeup
13 Jan 2013 | Posted by Cherry
Yesterday, Future came to V-103 and dropped new song "Wake Up, No Makeup" featuring Ciara! The track is written by Future and produced by Mike Will Made It. It's the first single from rapper's mixtape "The Movie". The mixtape will be available to download on Tuesday on LiveMixtapes.com at midnight! Listen below:
Ciara in 2012: Summary
01 Jan 2013 | Posted by Cherry
Welcome everyone in 2013! Previous year flew by so fast, right?! So many great things happened that's why I thought it would be so cool to make a summary of 2012. Just to remember how good it was for CSquad and CiCi! She gave us amazing music, videos and performances ♥ We couldn't ask for more! So let's go through the 2012 once again. Tell us about your favorite moments in comments or on our Twitter page.
January 8th – Ruwanga Samath reveals working with Ciara on "One Woman Army".
January 12th – Ciara attends the PBA Chris Paul Celebrity Invitational Bowling Tournament at Lucky Strike Lanes hosted by Chris Paul:
Ciara working on music with Wallpaper
17 Nov 2012 | Posted by Cherry
Looks like Ciara still can't get out of the recording studio! Last night, CiCi was working with Wallpaper also know as Ricky Reed who is signed to Epic Records. Here you can read about him.
First session of many w/ @ciara last night! She got a legend thing going on!

— Wallpaper. (@Wallpaper) November 17, 2012
PRESS RELEASE: Ciara Triumphs With One Woman Army / Rewards fans with two new singles
10 Sep 2012 | Posted by Cherry
CIARA REWARDS FANS WITH TWO NEW SINGLES
"Sorry" To Be Released On Sept. 13
"Got Me Good" To Follow on October 8th
NEW YORK, Sept. 10, 2012 /PRNewswire/ — Ciara's won Grammy Awards, BET Awards, and MTV Awards, and she was named Billboard's Woman Of The Year. She's sold more than seven million albums, scored eight Top Ten singles, toured with Jay-Z, Britney Spears, and T.I., and collaborated with artists such as Justin Timberlake, Chris Brown, R. Kelly, Usher and Missy Elliott. At 26, singer/songwriter/actress Ciara's already had an extraordinary musical career, and with the release of "Sorry," the first single from her fifth album, One Woman Army, Ciara's soaring again.
One Woman Army is a deeply personal record; it exposes a softer side of Ciara. While she continued to flex her considerable strength, Ciara allowed herself to be emotionally open and honest in writing and recording the songs for One Woman Army. "I can sometimes be afraid of my own vulnerability," she said. "But this time I let myself face it. I let myself feel. I let myself be real. I let myself hurt and be healed."
(more…)
Ciara to feature on Soundz's mixtape
21 Aug 2012 | Posted by Cherry
Music producer & also CiCi's close friend, Soundz announced a mixtape yesterday which features new songs with artists he worked with. 'Hunger Over Thirst' will drop on September 3rd and besides Ciara the mixtape will include tracks with Rihanna, Usher, Trey Songz or Jeremih.
@Soundzdope
My mixtape dropping soon!! 17 songs, all produced by me, featuring all of TODAY's stars, plus super exclusives on deck! Hosted by @DJORATOR
Ci song on my mixtape is stoopid
NEW MUSIC: Ciara – Livin' It Up
20 Aug 2012 | Posted by Cherry
Check out brand new Ciara's track "Livin' It Up" which appears on an Epic Records playlist created exclusively for Cosmopolitan.com
New song "Mirror" registered on ASCAP
17 Aug 2012 | Posted by Cherry
Ciara's new song "Mirror" has been registered in ASCAP datebase. It's written by Ciara, Johnta Austin, Bryan M. Cox & Jermanie Dupri. As we reported CiCi was in the studio with Cox & Dupri last month.
"Overdose" also has been added and the writers of the song are Ali Tamposi, Joshua Abraham, Livvi Franc & Oliver Elliot Goldstein.
Thanks Dark Paradise from CCB.
Ciara to release new song "Sorry" next week!
13 Aug 2012 | Posted by Cherry
As L.A. Reid promised, we're going to hear new music really soon! Official Ciara's page on Facebook changed its profile picture to image above, which says that new CiCi's song called "Sorry" will premiere on August 20 (Monday). Ciara also shared a 'letter' on her Instagram:

Click on the image to enlarge
"Sorry" was presented at "One Woman Army" listening party back in June, it's a ballad. Click 'more' to find out what people, who heard the track, said about it:
(more…)
Powered by WordPress