Ciara performs at Gipsy in Moscow
19 May 2013 | Posted by Cherry
Ciara hit the stage at Gipsy yesterday, check out fans photos below:
CiCi posted 2 new photos on her Instagram: 01 & 02.
Video of "Like a Boy": (more…)
FAN PHOTO: CiBandz spotted in Moscow
18 May 2013 | Posted by Cherry
Ciara and her boo Future were spotted in Moscow today. CiCi has show there tonight at Gipsy!
Credit: @agevorkyan
LA Pride 2013: Ciara Headlines Entertainment Lineup
17 May 2013 | Posted by Cherry
Ciara will be the entertainment headliner at LA Pride 2013! The event runs from June 7 through June 9. CiCi will perform on Saturday night (June 8th). More info here.
Billboard Update: "Body Party"
16 May 2013 | Posted by Cherry
Hot 100 – #55 (-9)
R&B/Hip Hop Songs – #17 (-4)
R&B Songs – #7 (-2)
R&B Digital Song – #22 (-1)
R&B Hip/Hop Airplay – #18 (+9)
 R&B Streaming Songs: #1 (=)
Radio update: The single is currently #13 on Urban & #35 on Rhythmic.
Purchase/gift: THE SINGLE | MUSIC VIDEO on iTunes,
REQUEST the song on the radio,
WATCH the music video on Youtube!
Ciara talks with The Advocate
16 May 2013 | Posted by Cherry
Ciara: 'Body Party' and Soul
Via Advocate.com: The princess of Crunk&B opens up about her newfound sense of self, the inspiration behind her upcoming album, and why she thinks the hip-hop community will embrace openly gay NBA star Jason Collins.
She's sold more than seven million albums, won multiple awards, and collaborated with superstars like Missy Elliot, P. Diddy, and Justin Timberlake. Yet, for all her success, Ciara admits she has never felt completely comfortable in her own skin — until now.
Her self-titled fifth studio album (available July 9) showcases a renewed performer who is at ease with both herself and her craft. Nevertheless, it's the struggles she has endured throughout her career that the singer credits with helping her achieve a newfound sense of self-confidence and part of what has endeared her to many LGBT fans as well.
With her latest single "Body Party" currently burning up Billboard's Hot R&B/Hip-Hop Songs chart, Ciara spoke with The Advocate about her love of the LGBT community, her affinity for Ball culture, and why she thinks the hip-hop community will embrace openly gay NBA star Jason Collins.
The Advocate: Ciara is your fifth studio album. What inspired you to go with a self-titled album at this point in your career?
Ciara: It just felt right. I've been able to tap into and discover so many new things about myself. I'm so much more comfortable in my skin than I've even been in my life and career. More than anything, I'm having more fun than I've ever had and I'm allowing myself to be free in the universe. For me, it's beyond the music. It's about the new experience and the journey. (more…)
VIDEO: Behind The Scenes of "Body Party"
16 May 2013 | Posted by Cherry
After the remix, Ciara got another treat for us! Check out the behind the scenes of "Body Party" music video!
Ciara premieres "Body Party" Rich Mix/Remix feat. Future & B.O.B! Listen Now!
15 May 2013 | Posted by Cherry

Ciara premiered "Body Party" Rich Mix/Remix featuring Future & B.O.B today on Power 106. Listen above and tell us what you think!
Future discusses relationship With Ciara (Interview with Power 106)
15 May 2013 | Posted by Cherry
VIDEO: Ciara Interview with Jammin' Z90
15 May 2013 | Posted by Cherry
Ciara covers Georgia Music Magazine
12 May 2013 | Posted by Cherry
Ciara is a cover girl of Georgia Music Magazine Issue 32. You can buy it here, read the article below:
Bringing Sexy Back: Ciara Breathes New Life into R&B
By DeMarco Williams
R&B as we know it has been on life support. There's no other way to put it. It's wobbly. It hardly has a pulse on the charts. Hell, touch it—it's ice cold.
Atlanta, once a proud incubator of the sound, has all but abandoned it, focusing all of its creative energy on hip-hop, a genre as vibrant now as it was 10 years ago.
But even though R&B's prognosis isn't the greatest, all hope isn't lost. Modern-day ambassadors of smooth Miguel and Trey Songz are still crankin' out the hits. Beyonce is still poppin' up on the nightly news. Closer to home, acts like Keri Hilson and Usher are also doing all they can to keep the genre vibrant—Mr. Raymond's 2012 smash single "Climax" can still get the club good and sweaty whenever DJs drop it.
Another homegrown talent who isn't giving up on the sound is Ciara. And if anyone should know about its current well-being, it's her. Ciara Princess Harris—an Austin-native-turned-A-town-repper—has seen pretty much every side of the industry. She's been to the commercial mountaintop—her debut single, "Goodies," was No. 1 in America for seven weeks in '04—and has had her career dissected after subsequent commercial failures. But through it all, she remains hopeful that the genre she loves and cherishes will thrive again.
"One thing about Atlanta [music]," begins the Grammy-nominated siren, "I don't know if I'd so much say that something was missing. There is never a dull moment [in the city]. Right now, Atlanta is more hip-hop dominated. There's a moment where R&B isn't the most common [sound]. It all just rotates and it goes in a circle."
And as a show of just how much confidence she has in that last statement, Ciara is releasing her fifth album, a self-titled effort, in June. Some have rumbled as to why she'd record another CD after her last two projects, '09's Fantasy Ride and '10's Basic Instinct, failed to make a commercial dent. But Ciara is going with her gut, which is telling her that now is the time to get back out there with new material for the dance floor and the bedroom. (more…)
Ciara to appear on Chelsea Lately
12 May 2013 | Posted by Cherry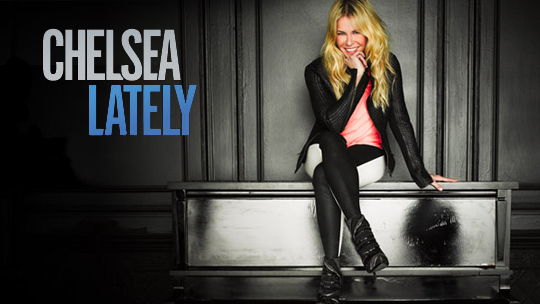 Ciara will be a guest on Chelsea Lately on June 25th! It's going to be her second appearance on the show, CiCi visited Chelsea in 2010 to promote Basic Instinct, click here to watch the video.
Ciara's "Nail Party"
09 May 2013 | Posted by Cherry
Via WendyShow.com: Ciara talks nails with our nail blogger, Yazmin Ramos. Find out what nail trend Ciara is dying to try and if she's a fan of nail art.
Nail Candy: Your nails are absolutely gorgeous! What do you have on your nails right now?
Ciara: Thank you! They're opaque white gel nails, and they're shorter than how I usually wear them. I made the tips more pointy and oval shape, because it gives my hands a softer look.

Nail Candy: All of your nails are painted one color; are you a fan of nail art?
Ciara: I like nail art, but I'm more into simple and solid colored nails.

Nail Candy: Name four nail polish colors that are your faves?
Ciara: My favorite nail polish colors are red, white, black and nude because they look good with whatever I wear.

Nail Candy: Do you remember your first manicure?
Ciara: Yes, I remember it being really sweet. I felt like I was a little grown woman. I was a little girl, but I felt like I was grown, and doing something big girls do! [Smiles]

Nail Candy: What's the most outrageous thing you ever done to your nails?
Ciara: Way back in the day I used to wear extremely long nails that I would buy from the store. [Laughs] When I was younger I experimented a lot with my nails, and they were definitely RATCHET!! I had ratchet nails when I was younger, but I cleaned it up. [Laughs]

Nail Candy: What nail trend would you love to try?
Ciara: I've been dying to try matte black nails, but I haven't had the chance to do it. I would like to try matte black nail polish mixed with regular black nail polish pained at the tip of the nail. I can't wait to try that!!
Thanks CCs_Interlude!








?

Powered by WordPress